From a father's legacy to an ecotourism residence
Date: 29 December 2016&nbsp &nbsp|&nbsp &nbsp Source: Donyaye Eghtesad newspaper
---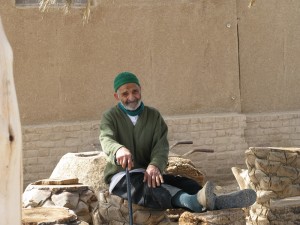 Nowadays, one of the most popular types of tourism is going out to the nature (ecotourism). It can be said that villages are the best symbol of nature because they really have a healthy coexistence with it and respect nature. Farahzad Village is one of them which is located three kilometers north of Mesr Village in Isfahan Province. In fact, it is the last village on the northeast of Isfahan before entering the central desert of Iran.
Today, there are two families living in the village. They have revived their ancestral homes and make a living through agriculture and animal husbandry as well as providing accommodation for tourists. One of the houses is known as Tabatabaei Barandaz Lodge which is run by Seyed Hashem Tabatabaei and his family.
The lodge is Mr. Tabatabaei's ancestral home which has been set up considering the tourists' interest in the rural and desert residential centers. As the lodge has been introduced in Lonely Planet, lots of foreign tourists have come to see and stay in here over the past few years.
Introverted structure of desert local houses has been used in the architecture of Barandaz 1 and 2. Barndaz 1 comprises 3 large and 2 small rooms as well as a porch while there are 6 rooms and a porch in Barandaz 2. The arched roofs are reminiscent of the traditional and forgotten architecture of the country. The residence has been elegantly restored while keeping its Iranian and traditional style. Tabatabaei Barandaz Lodge is a standard ecotourism residence in the country. Providing residency requirements and small businesses for the residents and neighbors, Barandaz Lodge generates revenue and supplies its own food. The seemingly small businesses not only encourage tourists to travel to the region, but also attract rural youth and cause reverse migration.
Sand dunes are a prominent feature of Farahzad Village that distinguish it from other villages. Taking advantage of the unique location, Tabatabaei Barandaz Lodge provides its guests with several recreational activities tailored to the desert environment including riding camels, safari (riding on a car in the sand), stargazing, desert hiking and more.
Currently about 20 locals are working in the two lodges and many more have an income from there indirectly.